Another Bank Holiday has come and gone and we are now in the full swing of summer. The village is bustling with visitors, some whom return year after year to relax and enjoy a gentler pace of life, some who are Schull newbies! They have discovered our quaint seaside village and are exploring the area inbetween the showers.
---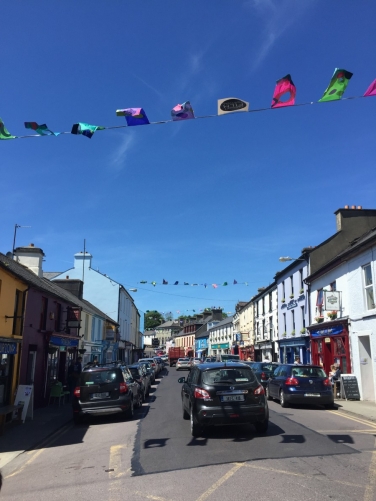 The 9th Annual Fastnet Film Festival went by in a flash of films, workshops, seminars and lots of film industry people. The general consensus was that it was a huge success, the village looked amazing and our visitors were lucky enough to enjoy all sorts of weather! The standard of films entered into this year's competition was extremely high, which is a testament to how the festival has grown and now has a great reputation in the industry as a serious but accessible film festival. The organizers would like EVERYONE to know how much they appreciated all the help given over the festival and the weeks leading up to it. Please know that no matter what job you did, what generous gifts you gave, what patience you showed, what rescuing you did, it all was noticed and very much appreciated. Unbelievably plans are already being made for next year's big celebration ~ Fastnet Film Festival #10.
Check out their website http://www.fastnetfilmfestival.com/for a full listing of all the prizes won. If you took any photos of events you attended they would love to see them. Email Hilary@fastnetfilmfestival.com with jpegs.
---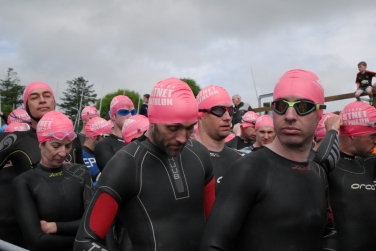 June 10th will see the 13th Centra Fastnet Triathlon in Schull. Starting at the earlier time of 9:45 am 300 athletes will take to the sea for a 750m swim, followed by a 21k bike and a 5k run. As usual we are very excited to host this event and delighted that so many participants make this an annual pilgrimage. The prize giving and race celebrations will be on the Main Street after the race. There will be an party that night in the Schull Harbour Hotel. We are, as usual, very dependent on our wonderful Marshalls ~ if you are free to help, please contact Sarah McKnight on 087 9187 624. The CENTRA Fastnet Triathlon brings to Schull, some of the most positive people that we have had the pleasure to meet and interact with over the last 13 years. It is our pleasure to host this event and to showcase all that is good about Schull and the Mizen Peninsula. Please note that the roads will be busy between 9:30 am and 12 on that Saturday. We hope that you will be your usual patient interested selves. A special thank you to all of our sponsors without whose support we would not be able to run this Triathlon.
---
Make plans to be in Schull at the end of the month, Schull Regatta https://www.facebook.com/schullregattarevival/are holding a fund raising Dance June 30th in the Schull Harbour Hotel. Music is by Two Mikes and Family Ties from Killarney guarantees a great night. Tickets €20 for more info contact Ellen Logan on 085 107 8910
---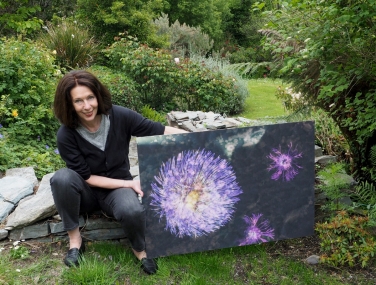 ULRIKE CRESPO'S WEST CORK 'RAINFLOWERS' AT BLUE HOUSE GALLERY, SCHULL
Following the current show by gallery artists entitled 'Islands', Blue House Gallery continues its summer programme with a solo exhibition of 'Rainflowers' by photographer Ulrike Crespo, while the upstairs gallery features work by textile artists Julia Zagar, Christina Jasmin Roser and Sukey Sindall. Ceramacist Kathleen Standen's work will also be on show. The exhibitions run from 16 May – 5 July, with the opening at 6pm on Friday 16 May.
Ulrike Crespo is a German photographer whose West Cork home of 25 years is her inspiration, and more, provides the raw material for this fascinating photographic project. Using a unique process of her own devising, Ulrike takes flowers from her beautiful garden and, using an old office machine, composes colour photocopies that are put outside where the rain is allowed to break up and mark the image in ways that are unpredictable and painterly in effect. Ulrike constantly checks these developments until the image provides the visual qualities she requires; they are dried, scanned and reproduced as large prints of stunning impact and beauty. Despite the time-based nature of their creation, the immediacy and physicality of these works provoke a visceral response to the ephemeral nature of flowers, and the way in which they evoke recognition of the delicate balance of growth, maturity and decay.
Ceramacist Kathleen Standen's vessels are made of coloured porcelain with organic additions, which she cuts, breaks and sometimes re-joins to create work that resembles fragments of the West Cork coastal landscape. Rock strata, water in its various moods and wild flowers, together with tools of the fishing trade such as floats, buoys and winches, are just some of the influences reflected in her textures, colours and glazes.
Julia Zagar has created a 'garden' of fantastic blooms that reflect the glory of the natural world and focus on the sheer exuberance of what she sees around her. Using textiles as a painter would use paint, she layers and hand stitches to provide depth, tone and shading, playing with patterns and colours, and rejoicing in the splashes of magic that happen unexpectedly when patterns collide.
Christina Jasmin Roser is a felt maker who is passionate about this ancient craft and fascinated by the process of manipulating loose wool fibres with only soapy water and her hands to transform them into a sturdy material. Her exhibits in this show will include garments incorporating elements of print and made from a single piece of felt without the use of scissors, needle or thread!
Sukey Sindall is inspired by the beauty of West Cork, and combines the textures, colours and patterns of reclaimed fabrics such as chiffons, organzas, silks, and cottons to evoke the captivating essence of the natural environment. Using an applique technique she has developed herself, the fabrics are cut, placed onto calico and hand-stitched into place in a process both exciting and rewarding.
Jo Howard has always been drawn to the textures and patinas of salvaged textiles and this is usually the starting point of her creations. From her travels around the world she has collected materials ranging from exquisite hand-stitched saris to woven rugs from hill tribes in India and since returning to Ireland has been collecting  old woollen blankets in order to preserve this piece of textile heritage in the pieces that she creates.
For more information about the exhibitions, please visit www.bluehousegalleryschull.com.