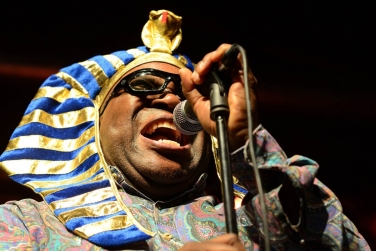 First up is the Ballydehob Jazz Festival.
Ballydehob, "the Village with the Festive Heart" is ready to get Jazzy again this May Bank Holiday Weekend. The Ballydehob Jazz Festival rollouts another outstanding programme including International Concert Headliners, Live Music Trail All Weekend, Dance Workshops, Art, Concerts & the return of the Giant Puppet in the New Orleans Jazz Funeral Parade…! This years Festival is bigger and even bolder – 45 Performances, 4 Days, 11 Venues.. all in 1 West Cork Village. Ballydehob Jazz festival will feature artist and performers from four continents – Europe, Africa, the Americas and Australia. Announcing this year's headline acts; Barrence Whitfield & The Savages, Trio Balkan Strings and the triumphant returning heroes The Home Jazz Band. As well as the best Village Music Trail we have ever put on including Australian duo Oh Pep! Irish Wordsmith Stephen James Smith, Irish Songstress Clare Sands, Festival favourites East Coast Jazz Band and the eclectic Jimbino Vegan & The Jazz Cannibals not to mention the classically talented Paul Dunlea Quartet.
HEADLINE ACTS!
Barrence Whitfield & The Savages [Saturday, 5th May, 7pm Festival Hall] are the men of SOUL and are here to get the Party started in the Festival Hall. Barrence Whitfield is a full-throttle rocking screamer in the spirit of Little Richard, Wilson Pickett, and Solomon Burke. Whitfield has been called 'Crazed, Frenetic and completely Unhinged' !! Barrence and The Savages shot out of Boston in the mid-' 80s with the force of a cannonball and after touring internationally have built up global cult fanbase, performing live on famed late night music TV program Later…with Jools Holland on the BBC .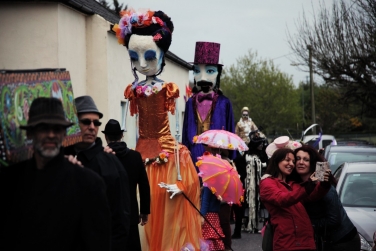 HOME JAZZ BAND [Saturday 5th May 11pm & Sunday 6th May 10pm, Festival Hall]   is an innovative and playful traditional jazz and swing band hailing from one of the most important places in the Swing Jazz revival: Vilnius, Lithuania. Making a triumphant return after scooping the Best Swing Jazz Band at an International Swing Festival in Lisbon, This band rediscover old jazz songs and spices them up with a hopping New Orleans flavour and the Swinging Style of the Golden Era Jazz. – Consisting of some of the best jazz musicians and guided by their bandleader & international jazz dance instructor, Mindaugas Bikauskas, Home Jazz Band is a perfect match for dancers and people who like a Hot Vintage Jazz party. This year they will be joined by the enigmatic lead vocalist Milda Stasaityté
Trio Balkan Strings [ Friday, 4th May, 7pm Festival Hall] are an internationally virtuosic guitar trio not to be missed by music lovers and aficionados. The Trio Balkan Strings are Zoran Starcevic and his two sons Nikola and Zeljko. They create original guitar music by fusing several Balkan styles — Serbian, Gypsy, Macedonian, Romanian, Moldavian, Bulgarian, Hungarian, Mediterranean and Greek — with jazz, Gypsy swing, classical music,  They have performed at jazz, classical, guitar and world music festivals in the U.S., Canada and virtually every European nation except Ireland, that is until now. And Ballydehob Jazz Festival is proud to be the first to bring the virtuosos to Ireland .
See a show, stay for the party ! Moonshine Shindig Festival Club – Live Music, DJs & Swing Dancing til late O'Clock.  Getting the feet swinging and the heart singing. Its the time machine ticket to the Jazz Age. Swing Dance Work Shops will be held all weekend – And this is where you get to bust out your best jitterbug.. or lindyhop your way over to the bar and just take in the Big Band Swing scene in the Festival Hall.
The Parade, The Fringe & The Trail!
The Jazz Festival has something for everyone in each little corner of   Ballydehob! The New Orleans Jazz Funeral Parades on early Saturday and Sunday evenings. A full Band, Dancers, Spectacular Costume, all led by 'Catrina' the Giant 15 Foot Puppet crafted here in Ballydehob Village. Last Year she was joined by 'Diego' her equal in size and spectacle. Watch this space to see if it will be Love or War 😉 Contact Festival Organisers if you would like to participate in the Parade and Costume Workshops.
The Jazz Music Trail takes place across All The Village, All Weekend – Daytime & Evening events. All Events on the Trail are FREE. Live Music & Spoken Word with Top Local & International Acts including Jimbino Vegan & The Jazz Cannibals, Clare Sands, Oh Pep (International Award winning Australian Act), East Coast Swing Band, Black Bean (local favorites & a highlight last year! ) Stephen James Smith ( Wordsmith), Paul Dunlea Band, Colm Motherway, Sam Clague, Fandango Duo, The Runaway Retro, Jazzabella & Accabella & more to be announced. The Fringe events include Art Exhibitions, Dance & Art Workshop's as well as a History of JAZZ talk in the old Bank building.
This ambitious music event is run entirely by local volunteers – led by Creative Director Joe O'Leary ( FRED, LEVIS CORNERHOUSE) and an eclectic gang of music lovers and festival buffs who share a vision to promote the arts and entertain the masses.
For more information on how to Book ART & DANCE workshop places OR buy Festival Hall Event Tickets, Purchase Raffle Tickets [prizes include a Hotel Break, Commissioned Artisan Jewellery, Restaurant Voucher for the Hottest Restaurant Seat in Ireland this Summer, Guided Night Kayak Trip) OR on how to be a Jazz sponsor, go to the Festival Website – www.ballydehobjazzfestival.org.
Ballydehob Jazz Festival is supported by the Arts Council, Cork County Council and by local sponsorship. Full listing of events for the 2018 Ballydehob Jazz Festival will be published on www.ballydehobjazzfestival.org and https://www.facebook.com/Ballydehob-Jazz-Festival
Performers Web Links
Next up is the Fastnet Film Festival

We are delighted to unveil this year's festival quizmaster, the brilliant and quick-witted Deirdre O'Kane.The 'How well do you know your movies Quiz?' is an annual, fun film trivia quiz held during the Fastnet Film Festival in Schull, West cork. The competition is fierce, there are no prizes, just your reputation at stake!
Casting Tales from the Deep…giving an insight into the casting process. Hosted by two of the greats in the international world of casting, Ros Hubbard and Maureen Hughes. This will be a general discussion forum, with interaction from the audience about casting and how to deal with it, the changes in casting due to technology and how best to present to casting directors.
Screening of  "Movie Going Memories" followed by Q&A with the writer / directors Dan O'Connell and Gwenda Young.
Village halls transformed into picture palaces; school excursions to "holy fillums"; magical evenings in the Cinemobile; warding off amorous suitors and frisky fleas in the dark; and falling under the spell of movie stars, from Hopalong Cassidy to Johnny Depp…These are just some of the memories of film fans living in small towns, villages and rural areas of Cork County from the 1940s to the present. Movie Going Memories offers a nostalgic and sometimes poignant look at the magic of the movies, from Bantry to Youghal, Dunmanway to Cobh and Clonakilty to Kanturk.  A definite must see!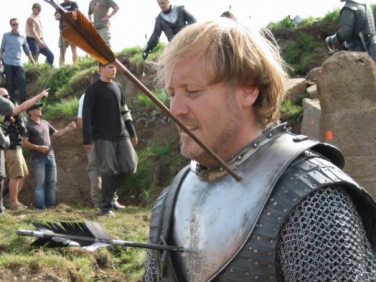 Practical Workshops with Stunt Actor Peter DillonIntroduction to the Dynamics of Sword Fighting for camera. How to prepare, how to train, how to choreograph, how to perform and how to best capture it on camera. Suitable for those interested in performing and filming fight action sequences. This is a two hour fun, but serious practical Workshop for males and females.
The 10th Fastnet Film Festival will run from Wednesday the 23rd to Sunday the 27th of May 2018 in Schull. In celebration of our 10th year, we will screen 10 Feature Films, run 10 workshops and 10 Seminars in 10 pop-up cinemas around the village. One of our most popular events is the Long Island Cinema, the most isolated cinema in Ireland. Cinema-goers will take the 10-min ferry ride to Long Island, followed by a 2-minute walk to a local house. The Bedroom Cinema, seats 24 and refreshments are followed by an hour-long programme of short films. Visitors will then spend a few minutes  soaking up the island beauty before returning by boat to Colla Pier.
This year, we have received an unprecedented 344 short film submissions for competition, from over 31 countries worldwide. Of the 344 shorts viewed by the judging panel, 200 will progress for screening at the Festival. This year the standard of the films is extraordinarily high. Alongside the screening of hundreds of films, we will provide high quality Children's activities, including Puppet Making, Batik, Film Animation Workshops, Storytelling, Drama Workshops, Cinema Club and T-shirt Painting. Guests can enjoy live music around town or a Café Viewing experience at one of the many restaurants and pubs in Schull. Fringe events include the Filmmaker's Hub, live performances and more.
The Fastnet Film Festival is a major showcase for Irish and International short film production. It focuses on the craft of film and has gathered increasing respect and a strong reputation from local, national and international filmmakers since its inception in 2009.
This year's line-up will include a series of Seminars, Masterclasses and Workshops covering, Stunt work, Production, Funding, Screenwriting, Casting, Auditioning, Score Composition, Animation, Creating Content on Your Mobile Phone, Set Design, Shorts to Feature, Costume and much more.
The 10th Fastnet Film Festival would not be possible without the support of our sponsors William and Judith Bollinger, RTE Supporting the Arts, Fáilte Ireland, The Arts Council, Cork County Council, Benny & Cliona McCabe, The Irish Film Board, Screen Training Ireland, The Sunday Times, Viv Nathan, Michael Satke, Ulrike Crespo, IMRO, Tomar Trust, Ken Kilkenny, Denis & Mary Ryan and Peter & Sabine Kelly, and huge private support from friends and local businesses.
A big thank you goes out to the village of Schull for providing an idyllic setting for what is now an internationally acclaimed Film Festival and for the outstanding encouragement and enthusiasm of the entire community for this event.