The 6th Corona Fastnet Short Film Festival Schull, will run from Wednesday 21st to Sunday 25th of May.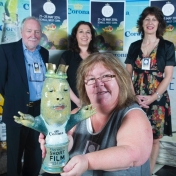 This is an 'up close and personal festival, where the audience, young filmmakers, internationally renowned directors, producers, and invited guest speakers, all share the same space. We host screenings, Q&As, Premieres, Workshops and Discussions with international experts in the film industry. We provide high quality entertainment for all the family most of which is free.
A Short Film Festival without a Cinema, we use "Distributed Cinema", Schull's very own dedicated server to short film. The past 5 years of submitted films are available to view with a smart phone, laptop or tablet anywhere on Main Street Schull, over the 5 days of the festival, 24 hours a day. From a bookshop, to an art gallery, marquees, numerous local pubs and restaurants, the town hall or take the ferry to the Long Island Cinema, films are screened in every corner of the village. Truly our village is our screen.
Guest speakers announced so far, Jim Sheridan, David Puttnam, Lenny Abrahamson, Sandy Lieberson, Greg Dyke, Carmel Winters. More experts to be announce soon.
Check out www.fastnetshortfilmfestival.com or follow us on Facebook.
Box Office: +353 (0)28 28600