Lots is happening in the village from now until the New Year.  Some new events, some traditional and some that just happen in Schull!  If you are visiting at this festive time of year we would love to see your view of the Schull and the Mizen, share things on our Facebook page or use these #myschull #schullcelebrates over on Instagram.  Most of all we wish everyone a safe and happy Christmas and hope to see you in 2018.
---
Transition year students at Schull Community College are busy rehearsing for what promises to be a highly entertaining musical version of "Sister Act". Deloris Van Cartier, a flamboyant singer, must go into hiding in a convent after witnessing a crime. For an enjoyable fun filled family show come along to Schull Community College on Wednesday 20th and Thursday 21st December.
---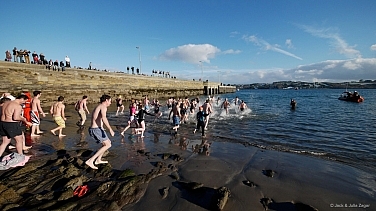 Don't forget the COPE FOUNDATION annual Christmas Day Swim 2017 which takes place as usual at 12 noon, regardless of the weather! Sponsorhip cards are available from the Post Office and collectors will be on the Pier too! Please give generously to this great and local cause. Hope to see as many swimmers out there this year as there are spectators!
---
A Carol Service will be held in St Mary's Parish Church in Schull on Sunday 10th December at 5.00pm and all are very welcome. The Christmas Penitential Service will take place on Wednesday 13th December, at 7.30 in Schull and at 8.30 in Ballydehob
Christmas Eve: St Mary's Church, Schull, 7.00pm
St Bridgid's Church, Ballydehob 8.00
Church of the Seven Sacraments, Lowertown 9.00
Christmas Day Masses as Sundays. All are very welcome.
---
Blue House Gallery will open its doors on Friday 1st December for a fantastic Christmas exhibition of affordable artworks by over 30 gallery artists. On show will be paintings, photographs, sculpture and textiles, all priced at €300 or less, including pieces by some of the gallery's most popular and well known artists. The gallery will be open from 11am every day up to and including Christmas Eve. And will also be open from 2~5pm on the 27th ~31st. Check out their website for details of the work in this exhibition. www.bluehousegalleryschull.com.
---
It's that time of year again when our Schull Community Care will be gathering at the Schull Harbour Hotel for their Christmas party. On Sunday the 10th December at 1p.m a fun afternoon of food, craic and dancing is planned. Everyone is welcome, for reservations please contact Nuala Hegarty 086 315 9719 or Ellen Logan 085 107 8910.